Oroville Dam Emergency Response
Oroville, California
When the Governor of California declared a state of emergency following a rupture at the main spillway of the Oroville Dam, our team worked around the clock to remove debris and perform emergency repairs
In 2017, nearly 190,000 residents were ordered to evacuate after a spillway serving the Oroville Dam suffered significant erosion. Heavy rainfall and snowmelt caused reservoir levels to increase rapidly, resulting in spillway failures and the potential to cause catastrophic flooding in the region.
Forgen, as part of a joint venture team, acted quickly under the direction of the California Department of Water Resources and their prime contractor to deploy emergency response management, local craft resources, and heavy equipment to assist with the emergency response efforts.
Emergency Spillway Erosion Repair
The joint venture team worked around the clock to haul, place, and grout 200,000 tons of riprap to serve as a protective layer to stop erosion and minimize further damage on the emergency spillway.
Diversion Pool Debris Excavation
The spillway failures resulted in an estimated 1.7 million cubic yards of eroded material which accumulated in the diversion pool. We acted quickly to remove the material and prevent the water from backing up and damaging the nearby Hyatt Powerplant. Our team provided custom long-reach excavators to remove the material, even leveraging specialty excavators operated from barges in hard-to-access locations.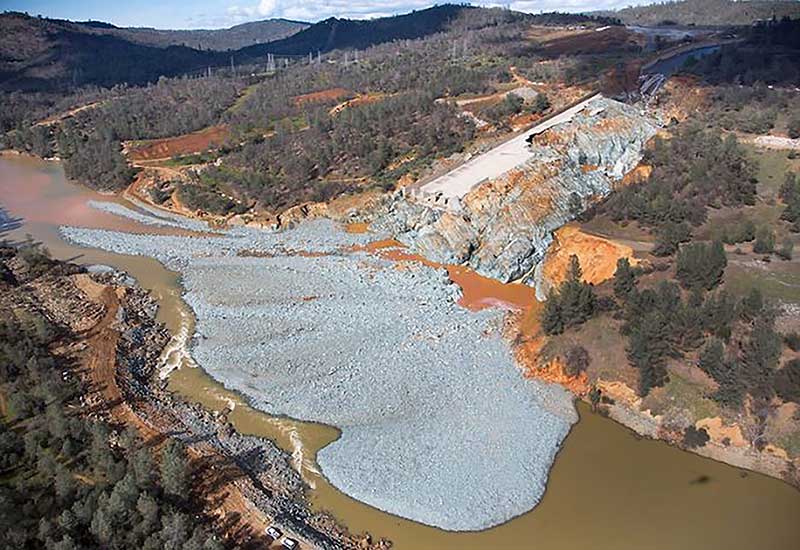 Service Line
Disaster Response and Recovery
Services Provided
Hydraulic and Mechanical Dredging
Vegetation and Debris Management
Debris Transportation and Disposal
Critical Infrastructure Remediation and Repair