North Area Streams Levee Improvement Project
Sacramento, California
Our team delivered critical levee improvements to protect flood-prone Sacramento while safely navigating critical infrastructure to minimize community impacts.
The northern area of Sacramento is protected by 12 miles of levees and channels that provide critical flood protection to the area. While the levee system underwent substantial improvements in the 1990s, state and federal agencies adopted new policies and standards to make levees even safer after Hurricane Katrina devastated New Orleans with catastrophic flooding in 2005. According to a geotechnical data report prepared for the Sacramento Area Flood Control Agency (SAFCA), several portions of the levee system had potential to not meet the latest requirements.
As part of a joint venture team, we were selected by SAFCA to perform a total of 2.3 miles of levee improvements along portions of the Natomas East Main Drainage Canal (NEMDC) East Levee and Arcade Creek under an aggressive May to November construction schedule. Once complete, the project would correct under and through seepage deficiencies using a combination of soil bentonite (SB) cutoff walls, slag-cement cement bentonite (SCCB) cutoff walls and relief wells. A total of 191,968 square feet of SCCB and 211,254 square feet of SB cutoff walls were constructed.
The project required our team to construct the cutoff walls while safely protecting various utility and structure conflicts, including multiple high-pressure gas lines, major sewer and potable water lines, fiber optic lines, a stormwater RCP pipe, popular bike trails, under a 15' to 17' clearance bridge, and through a heavily traveled road servicing many homes, businesses, and schools. In addition to protect in place features, the team removed, bypassed and replaced three major City of Sacramento stormwater pump stations and a City of Sacramento main water line.  Despite the unique challenges, our team successfully delivered on our commitment to ensure all utility and structure conflicts remained in service and protected in place during all construction activities.
In total, our team excavated 175,817 cubic yards of levee embankment and 45,7148 cubic yards of borrow site material to allow the construction of cutoff walls and other levee improvements. Multiple stakeholders were instrumental in the successful completion, including the Sacramento Area Flood Control Agency, California Department of Water Resources, US Army Corps of Engineers, City of Sacramento and Sacramento County. The improvements further reduce flood risk in the area and meet applicable levels of protection for urban areas.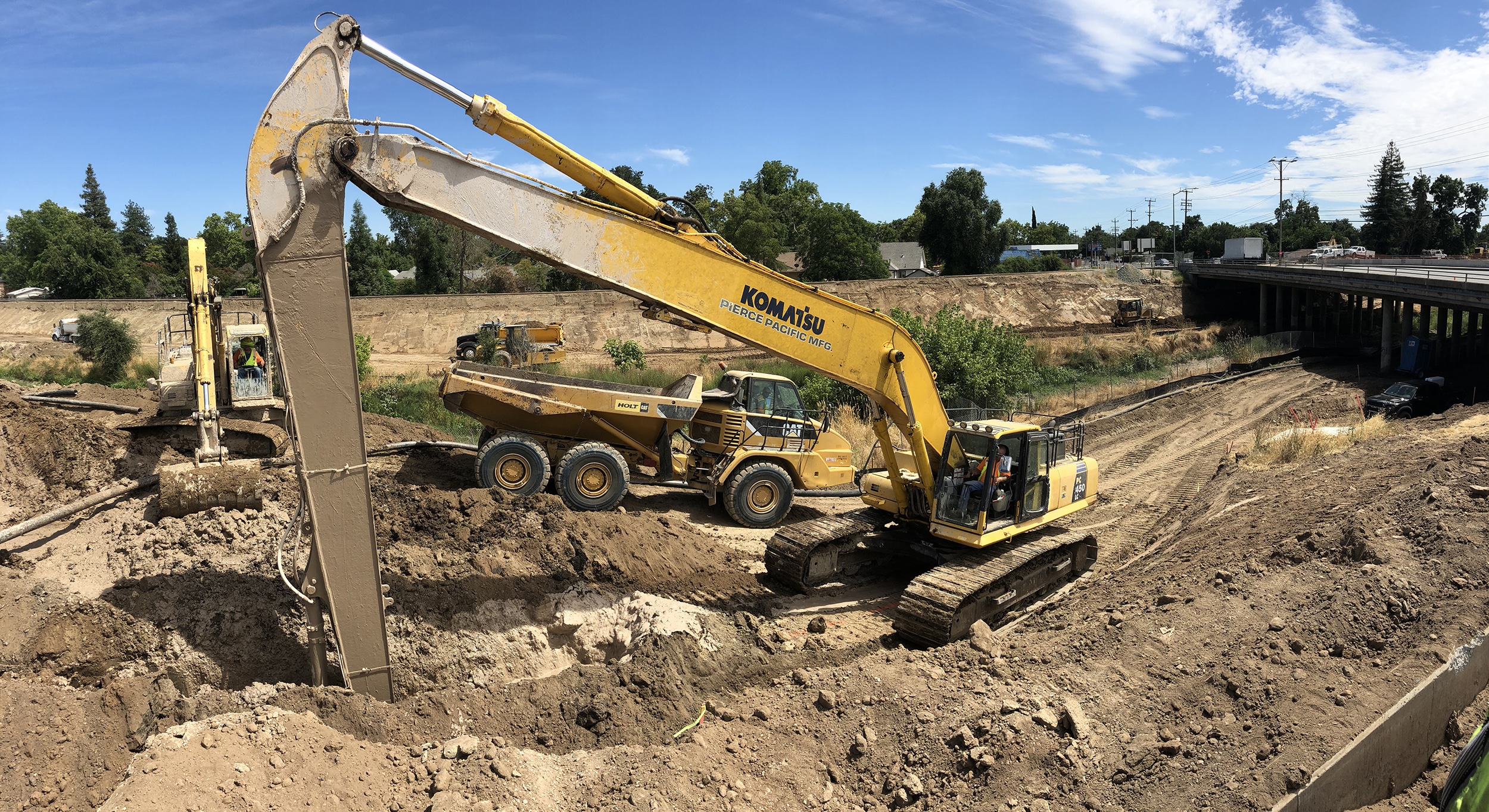 Service Line
Geotechnical and Civil Construction 
Flood Control and Ecosystem Restoration
Services Provided
Excavation and Embankment Construction
Clearing, Grading, and Earthwork
Slurry Wall Construction
Cutoff Wall/Barrier Wall Construction
Dam/Levee Construction and Rehabilitation
Water Control Structure Construction
Stormwater, Erosion Control, and Underseepage Improvements
Clearing and Grubbing
Critical Infrastructure Remediation and Repair