Kalamazoo River Superfund Site Sediment Removal
Cooper Township, Michigan
Our team provided full-service remediation of a portion of the Kalamazoo River to restore the site to its former beauty and protect the surrounding communities for generations to come.
This important remedial action work removed side channel sediments containing polychlorinated biphenyls (PCBs) through mechanical dredging.  The  first of five in a series of projects to fully remediate the area, our team provided full-service remediation of the site – from the collection, transportation, and disposal of dredged sediments to the procurement, transportation, and placement of backfill materials.
 More than 11,000 cubic yards of mechanically dredged PCB sediments were excavated, operating largely from a floating barge platform, prior to being stabilized at the on-site sediment processing area. In total, more than 17,000 tons of stabilized sediment was transported and disposed of at nearby licensed facilities. To return the impacted area to its natural state, our team also restored the upland, wetland, and bank areas disturbed during construction.
The close proximity of the site to neighborhoods required an extensive community relations plan, with special consideration given to minimize odor, noise, and dust impacts to the local community.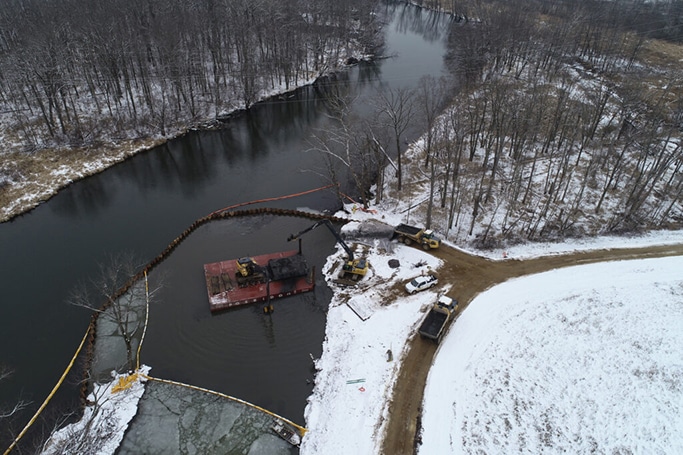 Service Line
Environmental Remediation
Services Provided
Sediment Remediation

Contaminated Soil Remediation

In Situ/Ex Situ Stabilization (ISS/ESS)
Hydraulic and Mechanical Dredging
Excavation and Embankment Construction
Clearing, Grading, and Earthwork
Soil Stabilization/Ground Improvements
Stream Channel, River, and Basin Restoration
Stormwater, Erosion Control, and Underseepage Improvements
Vegetation and Debris Management
Contaminated Soil Remediation

Clearing and Grubbing

Debris Transportation and Disposal